Travelers know how exhausting it can be to spend hours and hours in airports, and it's even more difficult for the time to pass when the airport is completely dull, and nothing is interesting about it. And, not to mention, how terrible it can be when the flight is canceled or delayed.
However, in some corners of the world, the destination will no longer matter to you when you see the design and features of these 10 airports that are AMAZING! Pay attention because you might lose your flight if you happen to be in one of these airports:
P.S.: You WON'T BELIEVE what people think about number 6!
1. Singapore Changi Airport
As seen in the picture above, this airport is truly unique. I mean, how many airports can proudly say they have a waterfall? Exactly. But, that's not all, there are several garden elements to it that have been brought indoors.
This makes the cynical atmosphere of an airport completely disappear. This design sets the perfect scene for your trip to Singapore. If you're lucky enough to arrive at night, the whole place looks completely magical.
The waterfall glows and there are serene lights just about everywhere.
2. Marrakech Menara Airport
In general, the buildings in Morocco are nicely built and very carefully designed, so, it's no surprise the Marrakech Menara Airport is one of a kind.
This popular destination has millions and millions of tourists that visit every year, having served more than 6 million passengers in 2019.
The beautiful airport is designed with unique Moroccan motifs where they meet modern designs. Due to its fine structure and architecture, natural light can easily filter into nice patterns. If you happen to visit Marrakech, take your time to wander through the building, it's not going to disappoint you.
Fun fact: During World War II, the U.S. Army Air Force used this airport as a cargo hub. 
3. Dubai International Airport
Talk about taking a tropical vacation! Dubai International certainly knows how to make you feel welcomed. This one is the third-largest in the world. In this place, luxurious lifestyle meets futuristic details, which Dubai is well-known for.
In two of their terminals, they even have something called Snooze Cubes. These are mini-hotel rooms that you can book by the hour, in case you want to enjoy a good nap. This is great for those of us who never want to leave this airport.
Sounds like the perfect Neverland, we would NEVER wanna leave.
4. Munich Airport
No, we didn't get the wrong picture, that's an actual Christmas market with an ice rink INSIDE this place. Talk about being unique. Germans sure do know how to throw a rocking party, right?
Well, if you've thought about going to Germany, the holiday season seems just about right, judging by the picture above. It's also the number one airport in Europe. They have a lot of attractions, and they are well-known for hosting amazing events throughout the year.
If you want to enjoy a drink while waiting for your plane, you can choose one of their many restaurants, or, even better, the brewery.
5. Heydar Aliyev International Airport 
This magnificent place is located in Azerbaijan, to be more exact in its capital, Baku. Its architecture is designed in a way that makes travelers feel cozy and welcome. It has also ultra-modern features such as massive windows, geometric tiles, and a semi-transparent roof.
In Terminal 1, they have multiple lounges and a SPA! We don't know about you, but we're already booking a ticket to Baku. You can find us either at the lounge or having the best time at the spa.
What more could you ask for? This atmosphere is definitely like nowhere else.
6. Denver International Airport
Denver International is one of the busiest ones in the U.S. However, that's not what makes it so special and unique.
As you can see in the picture above, this airport has a distinctive look. It is so distinctive, that for many years, people have subjected it to many conspiracies. The airport features four murals, which have sparked a lot of controversies and debates regarding aliens and secret Nazi groups.
The meaning of the murals is ambiguous, presenting caged animals, fires, suffering people, and a suffering soldier with a blade and a gas mask. Now, if you think about it, the pictures are a bit odd, to say the least.
7. Wellington International Airport
Located in New Zealand, the Wellington International is a smaller one than what we have presented so far, but it doesn't fail to impress. And, no matter the size, it's the third busiest airport in the country.
The architecture of the entire place gives travelers a cozy, and calm atmosphere that they can enjoy while waiting for their flight.
And, in 2010, a new terminal had been revealed. For the most part, it looks like a huge waiting room of a spa, until you see a huge Gollum sculpture standing below you. As you can see above, creativity has no boundaries, not even when it comes to aerodromes.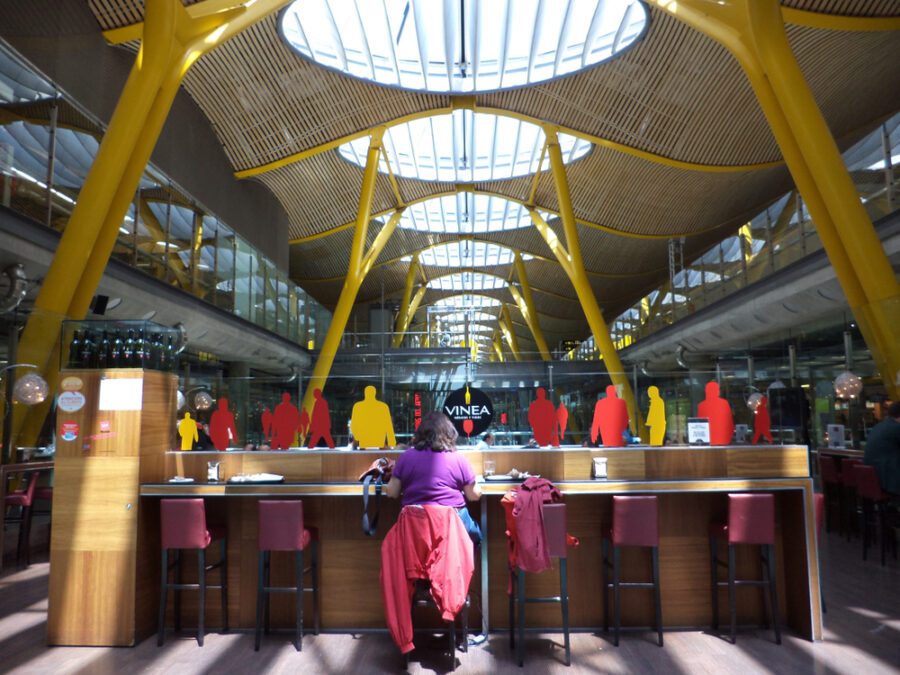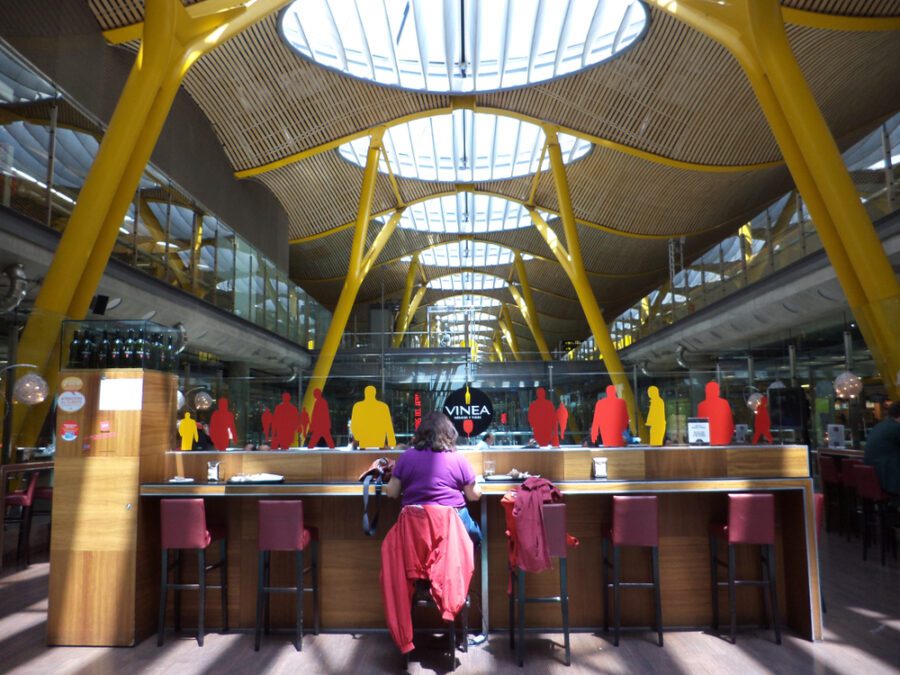 8. Adolfo Suárez Madrid–Barajas Airport
The Adolfo Suárez Madrid–Barajas is Madrid's main airport. The place is filled with natural light, colorful beams, and corridors, which offer a friendly and welcoming atmosphere for travelers from all around the world.
There are also small details of grass along the halls which make you feel like you're outdoors in a cozy garden. It has 5 terminals and they are all full of restaurants and entertaining cafes. Nowadays, it's one of the most important aviation centers in Europe.
In fact, many people have agreed that this one is much more cheerful and playful than the rest.
9. Vancouver International Airport
Wow, quite a view, huh? Vancouver International sure does know how to set the perfect scene. As seen above, they like to introduce you to their culture before you even get to the end of the terminal.
But, that's not all of it. Watch out for the aquariums filled with interesting and colorful fish, try to resist the appealing offers in the duty-free shops, and their delicious foods awaiting in several restaurants.
The artwork that you will encounter throughout the airport would rival any museum. Try not to get lost in this adventure and lose the plane in the process.
10. Hamad International Airport
Opened in 2014, Hamad International is located in the capital of Qatar, and it welcomes over 35 million tourists every year. Its architecture is very modern, but, it also gives a welcoming and appealing atmosphere to the whole place.
What's really interesting about it, is the HUGE Lamp Bear sculpture placed in the grand foyer. The bear also has a desk lamp umbrella near it, and it is the symbol of childhood and reminds people of their precious objects from home.
The sculpture was made by a Swiss artist. If you ever happen to visit Doha, take your time to explore the airport, their duty-free shops and cafes will win you over.
11.  Chicago O'Hare Airport
Chicago O'Hare is the second busiest airport in the U.S. However, what's notable about it, is the underground rainbow tunnel, which connects Concourse A to B in Terminal 1. Seeing such a beautiful scene definitely puts travelers in a positive mood.
Unfortunately, this masterpiece will possibly change due to the fact that the whole airport will make some adjustments, which will be finalized in 2028. Let's hope it's not the case.
If you know any other AMAZING airports, feel free to share them with us down below in the comments. 
(Visited 34 times, 1 visits today)